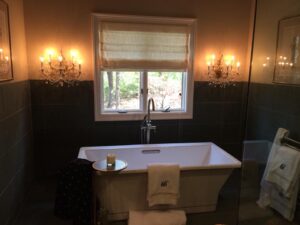 Bathroom Remodeling Services Tulsa OK
Do you have a bathroom you can be proud to let guests see? Like kitchens, your home's bathroom is a leading factor affecting resale value and the overall valuation of your home. Bathrooms get a ton of use, and there are lots of practical reasons you might be interested in a complete remodel from a need for new plumbing, electrical, or simply a desire for something new.
Regardless of the reason for your bathroom remodel, a really nice bathroom adds comfort, style, and elegance to a home. Tulsa Kitchen Remodeler Pro is proud to be one of Tulsa's leading bathroom remodeling experts, and we would love to put our experience to work for you today with a new bathroom remodel in Tulsa.
We can help you pick out a new bathroom fixture, bathroom sink, bathroom vanity, bathroom faucet, shower, bathtub, bathroom flooring, toilet, cabinets, counter tops, bathroom lighting, and bathroom mirror.
BATHROOM REMODELER TULSA, BIXBY, JENKS, BROKEN ARROW
Tulsa Kitchen Remodeler Pro will work with you to make sure your bathroom paint, tile, and everything else is exactly the way you want it.
When you hire Tulsa Kitchen Remodeler Pro to handle your bathroom remodeling project, rest assured you're hiring the best bathroom remodeling team in the Tulsa area!
Our bathroom contractors are expert carpenters, home remodeling, and home improvement experts. We will handle your project with the care it deserves, and will work hard to make sure you are 100% satisfied with your new bathroom.
Our bathroom modeler design team is standing by to handle your requests, answer questions, and help you dream about what can become a reality for your home.
We would love to earn your business and help you with a new bathroom remodel today. Give us a call to schedule a free consultation at 918-417-1281
We would love to speak with you about remodeling your bathroom in Tulsa, Bixby, Jenks, Broken Arrow, or the surrounding areas in Oklahoma!