Exterior Construction Tulsa OK
Deck, Pergola, Gazebo, Outdoor Kitchens in Tulsa, Bixby, Owasso, Claremore, Catoosa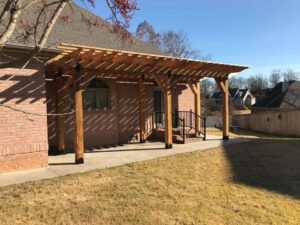 Outdoor Additions Tulsa OK
Are you looking to add something to the exterior of your home? Have you always dreamed of having your own gazebo? Are you itching for a new patio or pergola? Would you like to enjoy the outdoors and entertain guests on your new deck? Would you like your very own outdoor kitchen, man shed or she shed?
Tulsa Kitchen Remodeler Pro would love to help you make your dream a reality! We have years of experience in adding outdoor additions to existing homes in the Tulsa area, and we would love to add you to our list of very satisfied customers in Tulsa.
Deck Builder Tulsa OK
Let us schedule a free consultation with you today so we can dream together about what your property can be transformed into. Give us a call at 918-417-1281
One of our friendly outdoor construction experts would love to speak with you about your project and we would love to earn your business.
When you hire Tulsa Kitchen Remodeler Pro to handle your outdoor construction project, you're hiring the best carpenters and contractors in the Tulsa area. We will handle your outdoor project with the same care and concern we exercise on an interior home remodel.
Our fine craftsman use only the highest quality materials in our remodeling or new construction projects, and we know our reputation is only as good as our last job.
Let us go to work with you on your new decking, pergola, gazebo, outdoor kitchen, patio, or other high quality outdoor construction in Tulsa.