Kitchen Remodeling
Professional Kitchen Remodeling for Tulsa, Jenks, Bixby & the Surrounding Areas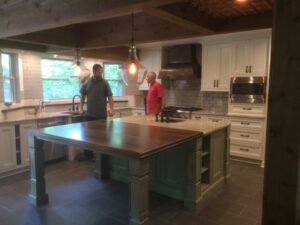 Kitchen Remodeling Tulsa OK
Your kitchen is the heart of your home. Your kitchen will see more activity and traffic than just about any other room in your residence, and a stellar kitchen is something that will make you look forward to coming home or using to entertain guests. Much like a bathroom remodel, a kitchen remodel is a great investment for customers seeking to add value to their home or increase resale value.
Tulsa Kitchen Remodeler Pro takes pride in helping you create the kitchen of your dreams. From new kitchen flooring, to new kitchen appliances, to new kitchen tile, kitchen walls, kitchen paint, kitchen sinks, kitchen faucets, kitchen stoves, kitchen cabinets, kitchen counter tops, kitchen lighting, and more - we handle it all at Tulsa Kitchen Remodeler Pro.
Our expert craftsman and kitchen designers can help you realize your vision for your kitchen remodel. We understand we are only as good as our last kitchen remodeling work, and when you hire us we will make sure your kitchen remodel in Tulsa meets or exceeds your expectations.
Let us help you realize your vision for your kitchen remodeling project. Give us a call at 918-417-1281
Schedule a free consultation today and let us help you come up with a plan to create a beautiful kitchen you will always be proud of!